WPGW Recognizes Top Producer in
North American for 2011 Jim Kline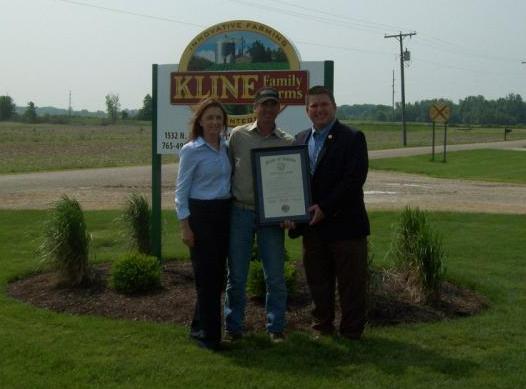 Blackford County Farmer Jim Kline who owns Kline Family Farms has been recently recognized as the "Top Producer" in North America for 2011 by Top Producer Magazine. Kline who started farming since a freshman in high school, now after 39 years has 7,500 acres growing corn, soybeans, and seed wheat and is one of four members of a joint farming venture in Brazil that raises eucalyptus.
Top Producer Magazine, an agribusiness magazine that looks at the top 10 percent of American and Canadian Farmers in terms of agricultural output and gross farm income.
Kline received an award in recognition that Kline is at the top of that top farming tier. The magazine honored Kline at a banquet back in January.
More Recently the Indiana State Legislature recognized Kline and his family with House Resolution 64 presented on May 25, 2011 presented by District 31 Rep. Kevin Mahan for his achievements.

Listen to the speech from Rep. Mahan and Jim Kline during the presentation of House Resolution 64 on May 25th.