WPGW's Look into the Portland Rockets
A Diamond in the Rough
by Sam Thomas, WPGW
7/13/11
For years men from all over Indiana and Western Ohio have benefited and lived the dream every little boy dreams of since their first visit for peanuts and cracker jacks.The dream to play baseball.To be the next Babe Ruth Slugger, the next legend like Jackie Robinson, or to be inducted forever in Cooperstown.

It may not be New York, or Boston. There may not be thousands of fans, or million dollar endorsement deals. But for 52 years
the Portland Rockets a semi-pro baseball team, made up of mostly older high school and younger college boys, have been giving players an opportunity to grow as a player and as men, to get noticed, and for some a last chance to play the great American pastime before hanging up the cleats for good.
The Rockets play good old fashion baseball. The kind that most major league players forgot how to play a long time ago. The Rockets have great all around talent with strong fundamentals. With respect and a love for the game.
"I love baseball, I'd love to keep playing as long as I can," said Lima Ohio native and Rocket's catcher Geoff Bowers. "I don't care who I'd play for. What's on the front of the shirt doesn't mean anything. What matters is just getting the chance to play, that's important."
The name may not be important as a player trying to get a few more years in the sun, but to everyone else with the organization just the name "Portland Rockets" bring history, respect, and community to a small town in East Central Indiana.

Unlike some ball clubs in the league or even most traveling teams the Rockets call Runkle-Miller Field home. Located
in Portland's southwest side in what's locally known as "Sportsland," Runkle-Miller Field named after the founders of Portland's baseball legacy.
There hasn't been a team in Portland without the influence of either family.
The Rockets Franchise was founded in 1959 by Dick Runkle and is one of the oldest franchises in amateur baseball. Ray Miller took over the team in 1972, when his son and current Rockets' Manager Randy started playing. The team had some financial troubles and was running into a losing season when Ray Miller took the reins of the team. Ray turned the team around, and not only brought winning records but championships that started getting the Rockets noticed. Ray not only coached and managed the team but also promoted the team in his own way. The "Rocket Report" which is still being aired on WPGW Radio giving reports on the Rockets' success during the season.
Ray passed away in 2007, not only leaving his legacy in the hands of his son Randy but left a philosophy of being players and men. Ray made it possible to bring and keep amateur baseball alive and brought baseball to Portland that the community could rally behind. Out on the outfield fence there hangs a banner for Ray who not only brought a community together to his "diamond" in the rough but molded boys like clay into good men. On the banner is Ray's iconic phrase that any good Rockets' fan know; "It's a beautiful day in Portland." Also on the banner is Ray's number retired away in remembrance of everything he gave to his family, his team, and his community.
"He made it possible. The man gave so much in both the game and in life. He spent coaching 10 years on one leg. But it was his passion," said Randy Miller when asked about his dad. "I have angels of mercy on my shoulders."
Randy Miller has been the Manager for the Rockets now since 2004, but hasn't been a stranger to the organization. Randy is spending his 40th season in the sun wearing a Rockets' uniform. Randy got his start with the Rockets as a player in 1972, and eventually went up the ranks to coach and to manager.
When asked what it is like coaching a semi-pro baseball team, Randy says it's a full time job.
"You don't just manage. There are many more parts to a manager than just coaching players. There are games, and travel, group speaking, grounds to maintain. Sometimes it feels like a 10 week blur."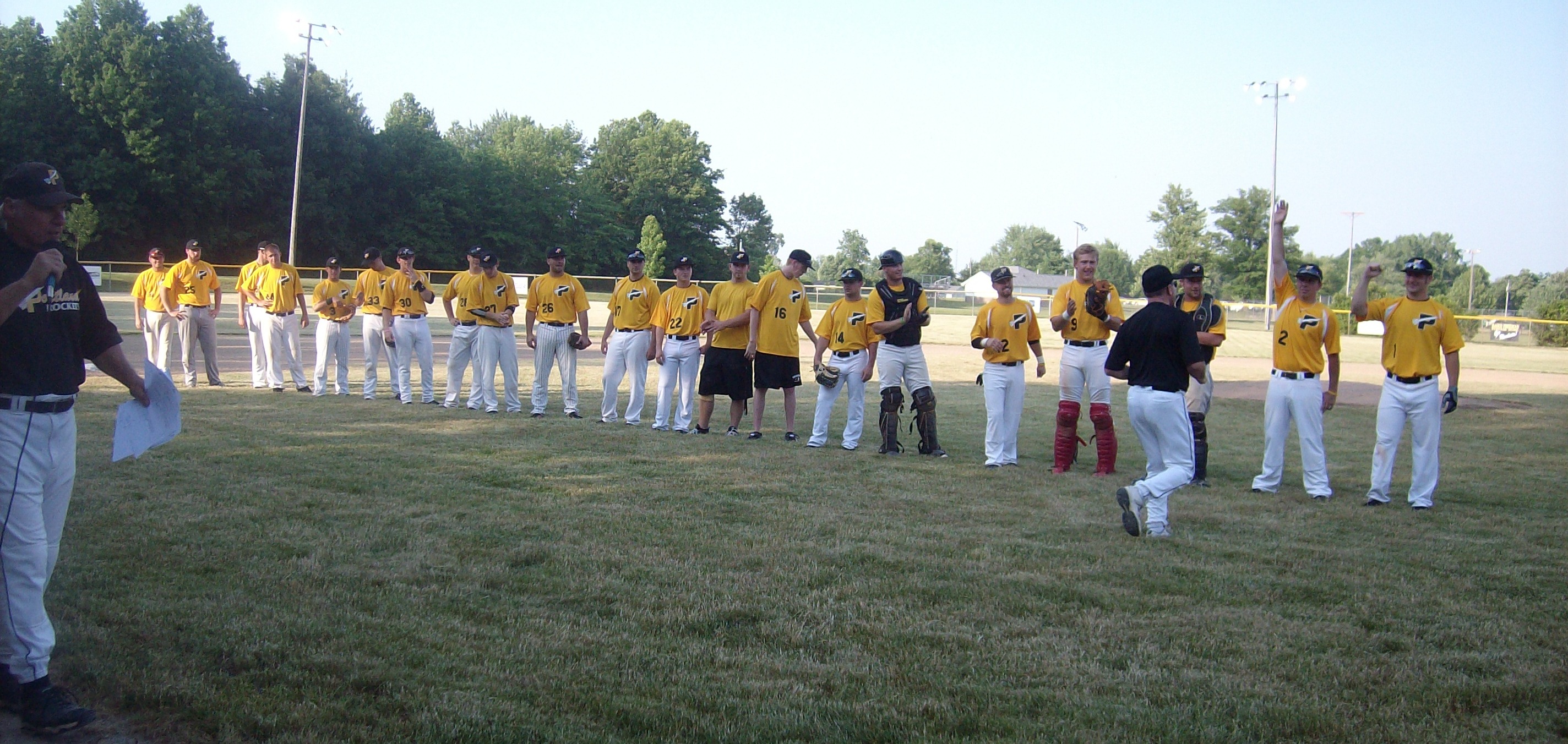 This season Randy has 30 players from all over Indiana and Western Ohio playing for him. For Randy it's like being a dad. Making sure his players are taken care of, they have their equipment, making sure they have travel arrangements for away games. But it's worth it to Randy. Being a part of something great. Being a part of his players lives. Getting them scholarships, molding minds of players like his dad, and helping some to make it big.
"You get to be a key part of life. I can't tell you how many weddings I've been to," said Coach Miller. "There is even a young kid, named after my dad."
Though Randy is the Manager of the Rockets, he can't do it alone. This season his assistant coach Kevin McCowan has really picked up the slack and has been a real help. But it's not just the coaching staff that Randy gives credit to. Though the players clean up and take care of their field before and after each game, the Parks Department get much of the credit for all the maintenance it gives to the field to allow the Rockets to play there. Also the support and aid from the Williams family who not only give time and support to the team and sponsorship for the Rockets Report on WPGW, but has given a leader and captain in Heath Williams who is spending his 7th season as a Rockets player.
Randy also attributes much of the help with his brother Brad Miller and sister Mickey Pensinger who help him greatly and together strength their family's legacy.
To Randy the Rockets are a big thing in a small town. And it does matter because without the community, without sponsorship of local business the Rockets wouldn't be here. Randy has dreams much like that of the movie "Field of Dreams." In the movie James Earl Jones says, " People will come Ray. The one constant through all the years, Ray, has been baseball. America has rolled by like an army of steamrollers. It has been erased like a blackboard, rebuilt and erased again. But baseball has marked the time. This field, this game: it's a part of our past, Ray. It reminds of us of all that once was good and it could be again. Oh... people will come Ray. People will most definitely come."
And like the movie the game is a part of Portland's past but also its present and future as well. Coach Miller dreams big for the future, dreams of a big score board and bigger and better bleachers, with the name Portland splattered everywhere because its Portland's team with Portland support.