Stars in the Park
This Thursday, July 30th
Special Guest
Levi Driskell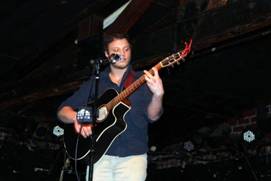 It just gets Better and Better. Stars in the Park begins the Semifinal Rounds this week at Hudson Family Park. Contestants moving on from the Portland, July 16th quarterfinal will meet contestants moving on from the Berne – Swiss Days quarterfinal on July 23.
Tell your friends not to miss this outstanding event. The talents of local and regional performers are showcased on the stage at Hudson Family Park amphitheater. Our first Semifinal Round will be Thursday evening, July 30th at 6:30 PM. Gates open at 5:30 and concessions are served so you can enjoy dinner before the show begins. Bring a lawn chair and your family. It's a great evening of entertainment and good food spent with friends and neighbors.
Thursday guest entertainer is Levi Driskell from Winchester who will be performing at both intermissions. And of course local businessman Ron Freeman will emcee the event.
Next week on Thursday August 6th we'll have our second semifinal with contestants from the Portland Quarterfinal held on July 23rd going up against contestants from Hartford City's quarterfinal held on Saturday July 25th.
Stars in the Park awards $2,500 in prizes to talent that is chosen by judges and the audience. You chance to have a say in who wins. The finals will be held on Saturday August 15th, again at Hudson Family Parks.
See Levi here: https://www.youtube.com/watch?feature=player_detailpage&v=Na2IBKTxCgs
The Jay County Chamber of Commerce is a member based organization serving the Jay County Area. For more information about the Chamber or Stars in the Park, contact Pam Rogers at (260) 726-4481